The festive period is a time to be enterprising!
Here are the twelve enterprising days of Christmas...
1. Experience someone else's festivities!
A great thing to do at Christmas time is to try to experience someone else's festive traditions, building greater cultural awareness.
You could experience the traditions of Judaism by helping light the Menorah over one of the eight days of Hanukkah (24th December - 1st January)!
Banish the cold weather outside and get cozy making mug brownies: add water, butter, vanilla and a dash of salt in a coffee mug, whisk the ingredients together and then add cocoa powder and sugar. Whisk well, and then add flour.
Then pop it in the microwave for 60 to 90 seconds! It's as simple as that, and goes great with some ice cream!
3. Volunteer at a kitchen.
Do something meaningful. Serve and cook meals to help stop hunger. There are plenty of opportunities in Birmingham alone!
Ignite your artistic flair! 'Create a blizzard's worth of snowflakes' through simply folding and cutting! Be brave and make a wreath out of snowflakes. Here are some simple instructions!
Be jolly. Simply heat the fruit and wine, add the sugar and strain. It couldn't be more simple! Here's a recipe!
On a tight budget? Want to learn a skill and give great gifts this Christmas? Grab a pair of knitting needles and put together a creative Christmas sweater or gloves for a present. And what better to hang on a fire place than home-made stockings!
7. Spread Christmas cheer with Carols!

Spread the love and adopt the traditional route by going carol singing to cheer up the neighborhood! Round up a few companions and have your own little concert!
8. Create Biscuit Christmas Tree Decorations!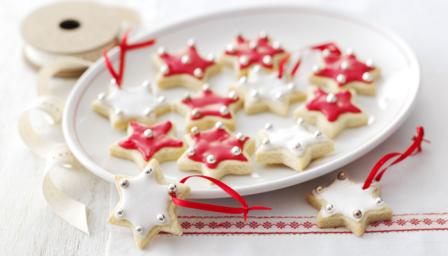 Eat and be merry. Take your favourite Christmas biscuit recipe and, just before you pop them in the oven, cut out a small circle in one of the corners. Once your biscuits are decorated, pop a piece of ribbon through the hole and there you have your own decorations! Here's a recipe
9. Make your own Christmas Cards!

Everyone loves a homemade christmas card! Put a smile on the faces of family and friends. Grab some glitter, glue, stickers and download some online stencils and get going. Personalize further with your own message.
10. Make your own Christmas Crackers!
Christmas crackers can be expensive right? Well, why not have a go at making your own using a video like this one. Fill with glitter and Christmas chocolates and you're good to go.
11. Donate to a shelter!
Christmas for many is a time to spend with family and friends in our homes. However there are people that will sadly spend Christmas alone on the streets. Donating to a charity such as Shelter could help give a warm safe place to homeless people and families this Christmas.
12. Open up the warmth of your house!
Charities are appealing to the public to open up their homes to lonely and homeless people this Christmas. If you're unable to do this, perhaps you could volunteer at a shelter, such as this one in Birmingham, or visit an elderly person or retirement home.
Happy Christmas to all our readers around the world!!
Student PR Team.